In Dialogue with In the Next Room, or the vibrator play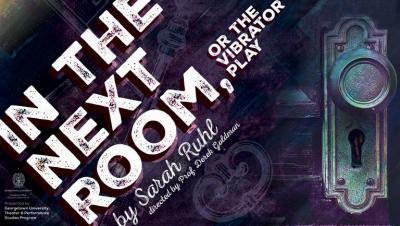 The Georgetown Gender+ Justice Initiative hosted a cross-campus conversation about the themes of "In the Next Room, or the Vibrator Play" after the performance on the evening of Thursday, April 6, 2017, featuring Professor Nan Hunter from the Law Center and Director-Professor Derek Goldman, moderated by Professor Denise Brennan.
Written by celebrated MacArthur Award-winning playwright Sarah Ruhl, this Pulitzer Prize finalist play also received three 2010 Tony Award nominations for its Broadway production, including Best New Play. Set in a seemingly perfect, well-to-do Victorian home, proper gentleman and scientist Dr. Givings has innocently invented an extraordinary new device for treating "hysteria" in women (and occasionally men): the vibrator. Adjacent to the doctor's laboratory, his young and energetic wife tries to tend to their newborn daughter—and wonders exactly what is going on in the next room. This production wraps up the Georgetown University Theater & Performance Studies Program's 2016-17 season: Discover and Celebrate.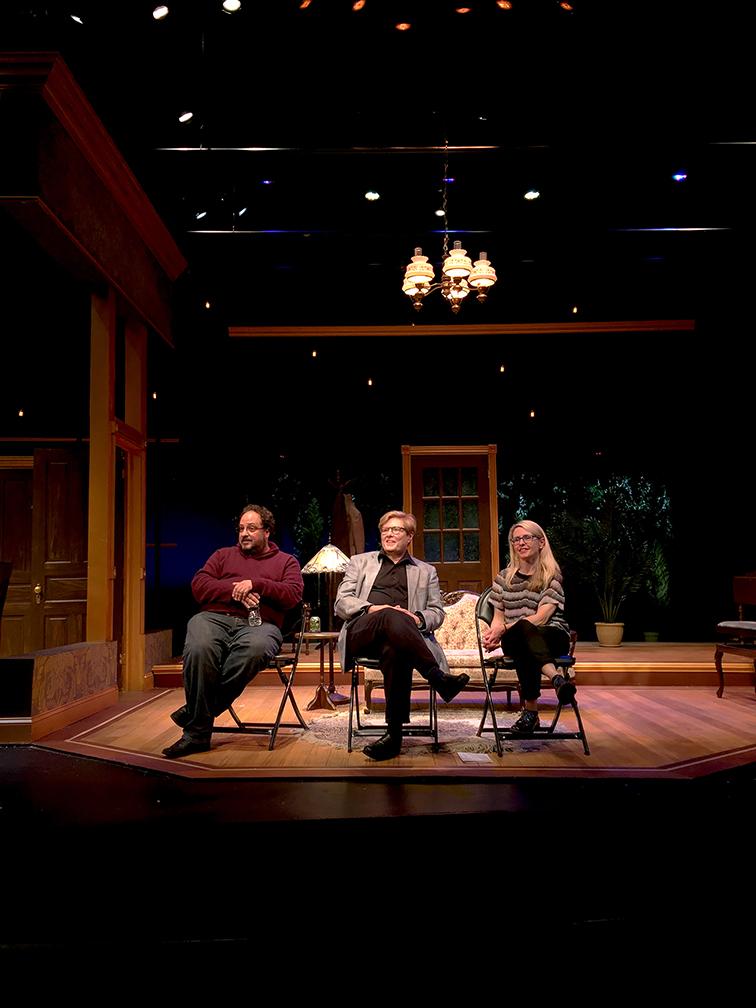 ABOUT NAN HUNTER
Nan Hunter is a Professor of Law at Georgetown University Law Center.
Professor Hunter's primary scholarship has spanned three areas: state regulation of sexuality and gender, health law, and federal courts and procedure. Her work has been published in numerous law journals, and several of her articles have been selected for reprinting in anthologies. She is co-author of a casebook on sexuality, gender and the law soon to be in its fourth edition. Her most recent scholarship focuses on law and social movements.
From 2011 to 2016, Professor Hunter served as Associate Dean for Graduate Programs at Georgetown Law. In addition to Georgetown, she has taught as a full-time or visiting professor at Brooklyn Law School, Harvard Law School, the University of Miami Law School, and UCLA Law School.
Prior to starting her career in law teaching, Professor Hunter was a member of the national legal staff of the American Civil Liberties Union in New York, specializing in constitutional and civil rights law. She was the founding Director of the LGBT Rights Project of the ACLU, after having worked as a staff attorney with the ACLU Reproductive Freedom Project. She also served as Deputy General Counsel at the U.S. Department of Health and Human Services in the Clinton administration. In 1997, President Clinton appointed her to serve on the Presidential Advisory Commission on Consumer Protection and Quality in the Health Care Industry. Professor Hunter is a Fellow of the New York Academy of Medicine. In 2000, she was honored by the American Foundation for AIDS Research as a "Civil Rights Pioneer."
ABOUT DEREK GOLDMAN
Derek Goldman is an award-winning stage director, playwright/adapter, developer of new work, educator, and published scholar, whose artistic work has been seen around the country, Off-Broadway, and internationally. His work has been produced and developed at theaters such as Steppenwolf, Lincoln Center, Arena Stage, CenterStage, Folger, Round House, Everyman, Theater J, Mosaic, Synetic, the Kennedy Center, Ford's Theater, McCarter, Segal Center (Montreal), Northern Stage, Forum, Olney Theater Center (where he is an Artistic Associate), and others. He is Professor of Theater and Performance Studies at Georgetown University where he is co-Director of the Laboratory for Global Performance and Politics, which he founded with Ambassador Cynthia Schneider with the mission of harnessing the power of performance to humanize global politics. From 2007-2016, he served as Artistic Director of the Davis Performing Arts Center at Georgetown. He is a Founding Director of Unesco's UNITWIN Global Network of Higher Education in the Performing Arts (based in Shanghai), and a partner with TCG on the creation of the Global Theatre Initiative. He is also Founding Artistic Director of the StreetSigns Center for Literature and Performance, an award-winning professional theatre founded in Chicago and now based in Chapel Hill NC. He is the author of more than 30 professionally produced plays and adaptations, including work published by Samuel French, and he has directed more than 80 productions. Recent highlights include A Streetcar Named Desire at Everyman; Our Class at Theater J (Helen Hayes Nominated for Outstanding Resident Play); Grounded at Everyman and Olney (to be remounted at Northern Stage) and The Brothers Size at Everyman; his world-premiere adaptation of David Grossman's novel Falling Out of Time (Theater J); his adaptation of Three Men in a Boat (Helen Hayes Nomination for Outstanding New Work/ Adaptation) at Synetic; the World Premiere of Jay O. Sanders' Rwanda epic Unexplored Interior, the inaugural production of Mosaic Theater; Theodore Bikel's Sholom Aleichem: Laughter through Tears, which he developed with Bikel and toured internationally after hit runs Off-Broadway (Drama Desk Nomination) and at Theater J. His original play about Polish War hero Jan Karski, featuring David Strathairn, was recently presented at the opening of the Museum of the History of Polish Jews in Warsaw and in residence at the Museum of Jewish Heritage in NYC. He received his Ph. D. in Performance Studies from Northwestern University. In 2016 he received the prestigious President's Award for Distinguished Scholar-Teachers.
ABOUT DENISE BRENNAN
Denise Brennan is Professor and Chair of the Department of Anthropology at Georgetown University. Her most recent book, Life Interrupted: Trafficking into Forced Labor in the United States, follows the lives of the first trafficking survivors in the United States. Prof. Brennan is also the author of What's Love Got to Do with It? Transnational Desires and Sex Tourism in the Dominican Republic and currently is writing Undocumented: Criminalizing Everyday Life in the United States. Prof. Brennan is an Advisor to the Best Practices Policy Project, and has been a board member of Different Avenues, and HIPS — organizations that work to protect the rights of people who engage in the sex sector. She also founded the Survivor Leadership Training Fund to provide support for trafficking survivor-advocates.