The Gender+ Justice Initiative Summer Research Grants Call for Applications
Posted in Resource Announcements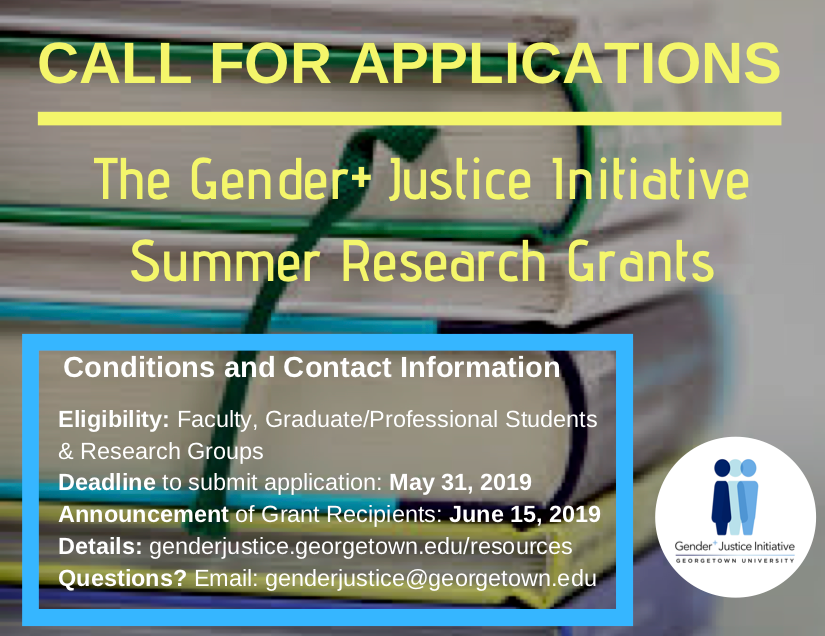 The Gender+ Justice Initiative Summer Research Grants – Call for Applications! Summer 2019
Growing Interdisciplinary Research on Gender+
The Gender+ Justice Initiative* is pleased to announce G+JI Summer Research Grant opportunities for our Georgetown University faculty, graduate students and programs/groups to conduct fieldwork or research. The grants are intended to support interdisciplinary research related to intersectional issues of gender, racial, and economic justice.
The goals of the G+JI Summer Research Grants: 1) support existing and future research on gender+/sexuality and feminist scholarship 2) grow an intellectual community of scholars across disciplines whose research intersects with gender+ issues 3) bring more visibility to gender+ research by presenting a description of the research during the G+JI Annual Faculty Research Colloquium on November 15, 2019.
We encourage faculty and graduate/professional students from the three campuses to apply.
Eligibility & Details:
Faculty, graduate and professional students, and programs/groups from all Georgetown University Schools, Colleges, and Departments are welcome to apply, including, but not limited to, those in the social sciences, STEM disciplines, medicine, law, humanities, education, business administration, public policy and foreign services. Non-US citizens are eligible to apply.
We are offering two types of research grants:
Faculty Summer Research Grant: up to $5000
Graduate/Professional Student Summer Research Grant: up to $3000
Grant funds can cover research and travel related expenses.
Expectations:
Grant recipients will conduct their research during the summer and will present at the G+JI Annual Colloquium on November 15, 2019. Each grant recipient will be required to submit a short progress report by October 31, 2019.
Application Submission:
Applicants must submit an application electronically no later than May 31, 2019.
The application will consist of the following items:
G+JI Summer Research Grants Application Form and attach the following materials
CV or Resume
Statement describing the research project and any fieldwork or travel to be undertaken and demonstrating how it relates to gender+ issues. Statements should include a specific description of the purpose of the research and how the research will move gender+ justice scholarship forward. (Max. 600 words)
Itemized Budget & Budget Narrative
Proposed travel itinerary (if applicable)
Send questions to: genderjustice@georgetown.edu