Pat Cloonan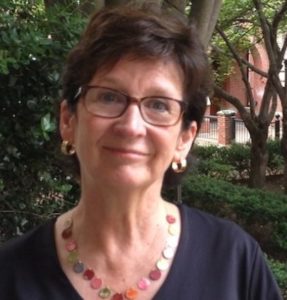 Dean and Professor School of Nursing & Health Studies
Georgetown University
---
Building upon a longtime career as an administrator, educator, and nurse, Patricia Cloonan, PhD, RN, serves as dean of Georgetown University School of Nursing & Health Studies (NHS). Dr. Cloonan has been a member of the Georgetown community for more than 20 years. During that time, she has held a number of academic leadership roles, worked to build strong partnerships with health systems and professional organizations, and led and supported the development of new academic programming and experiential learning opportunities.
Previously, Dr. Cloonan served as chair of the school's Department of Health Systems Administration, where she also is appointed as an associate professor. The department includes a bachelor of science program in health care management & policy and a nationally ranked master of science program in health systems administration. In that role, she has worked with colleagues at the School of Medicine and MedStar Georgetown University Hospital to launch the Georgetown University Open School Chapter of the Institute for Healthcare Improvement. Through the chapter, students have the opportunity to collaborate on an ongoing basis with the hospital's Center for Patient Safety to address actual projects related to quality improvement and patient safety. Additionally, Dr. Cloonan has been among a team of faculty at Georgetown University Medical Center working to foster interprofessional educational opportunities for health systems administration, medical, and nursing students and interprofessional research opportunities for faculty members. For many years, she co-led, with colleagues at the McDonough School of Business, the Health Care Leadership Institute, which was underwritten by an educational grant from Kimberly-Clark. She has directed and co-directed a number of initiatives, including a Leadership Development Program for the Association of periOperative Registered Nurses (AORN), a leadership program for new managers in Parkway Hospital in Singapore, and a capacity-building program for nurses in Central and Eastern Europe. Dr. Cloonan also led the department through a successful reaccreditation process for its master's program, which received the maximum reaccreditation by the Commission on Accreditation of Healthcare Management Education (CAHME).
Dr. Cloonan continues her teaching, including the senior-level health quality internship course, and maintains active research interests in improving care coordination and health literacy, especially among vulnerable populations. She has published more than 20 peer-reviewed papers, and her most recent publications focus on 30-day hospital readmissions, worker safety, and integrating patient safety and performance into health administration curricula. She joined the Georgetown faculty in 1993. Three years later, she became the director of the school's then-nursing administration program. In 1998, she and several faculty colleagues were leaders in the conceptualization and development of the school's health studies program, which grew over time into three academic departments in addition to the school's founding nursing program, which began in 1903. Today, the School of Nursing & Health Studies includes four academic departments in Health Systems Administration, Human Science, International Health, and Nursing, as well as the Center for Health Equity – Research, Implementation, and Teaching (CHERITH).