Amber Stanford
Posted in GJI Fellowship
G+JI Undergraduate Student Fellow 2021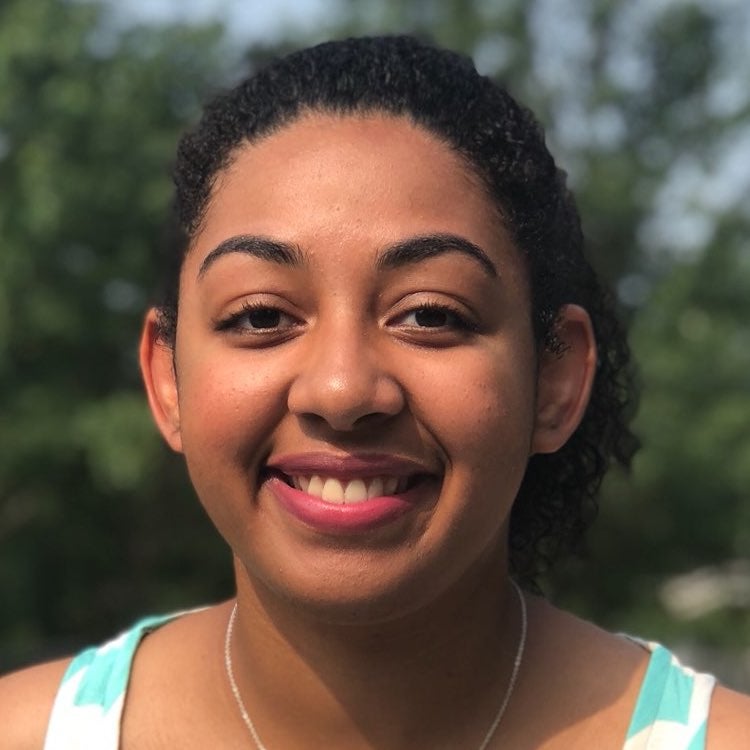 Amber Stanford, Undergraduate Student of Government and Theology, Georgetown University College
Amber Stanford (she/her) is a senior in the College, studying government and theology. Although she is originally from Maryland, the Hilltop has quickly become her second home. Amber serves as a resident assistant on campus and works as a research assistant at the Berkley Center for Religion, Peace, and World Affairs. She is fascinated by the ways in which religions and governments interact with power structures in society. Amber has been selected as a 2021 Marshall Scholar and plans to pursue two master's degrees in the United Kingdom.
Research Project: Exodus & Erasure: Black Women's Forgotten Flight to Jonestown
What is your research topic and why?
In my project, I explore the reasons behind Black women joining the Peoples Temple's Jonestown commune through the topics of race, gender, and religion. As Black women made up 45% of the commune, these topics were influential in their individual decisions to leave the U.S., as well as the overall group's dynamic.
Main Research Question(s)
Why did Black women decide to leave the United States for Jonestown? How did race and racism impact their decision?
Research Methodology
I used thematic analysis to code the members' first-person narratives and find patterns in the text.
Significant or Surprising Findings
One significant finding from my research is that race and racism influenced all of the factors I discovered for Black women moving to Jonestown, despite not always being explicitly mentioned.
Summary of Findings or Progress:
On November 18, 1978, the Jonestown settlement of the Peoples Temple came to a tragic end with 918 people dying, making it one of the largest losses of civilian life in American history. Despite making up forty-five percent of the Jonestown population, Black women have had their voices erased from the event's narrative. These members were integral to the group's survival—they financially supported the commune's creation, funded its operations through labor, and sought an interracial kingdom of God by urging the racial integration of churches and marching for racial equality. Despite their critical contributions, they are only remembered, if at all, for drinking the Kool-Aid. This project recognizes Black women's erasure, or attempts to obliterate and rewrite their history, and investigates the reasons behind their move from the United States to Jonestown in Guyana.

Using the stories of four Black women Jonestown survivors, this analysis identifies overlapping themes and patterns within their first-person accounts of emigrating. In their decision to leave the United States for Jonestown, Black women were influenced by their sense of belonging within the community, fear of abandonment, trust in religious power, and commitment to service, along with an underlying need to escape racism in the United States. Though not explicitly mentioned in each case, racism and race had an immense impact on Black women's move to the commune in Guyana. This research represents four cases of Black women Jonestown survivors, but further research is needed to counteract Black women's erasure and should include stories of the hundreds of other Black women who were involved in the movement.