Dash Conference
Posted in Event Announcements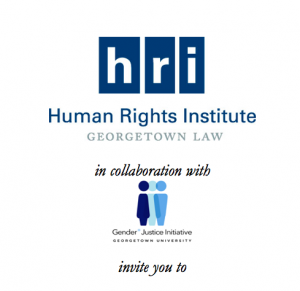 The 2018 Samuel Dash Conference on Human Rights
Defending Women's Human Rights:Achievements, Obstacles, and Opportunities for Empowerment
Featuring a Keynote Address by:
Her Royal Highness Princess Sarah Zeid of Jordan
Friday, April 6, 2018
10:00 a.m. – 5:30 p.m.
Gewirz Student Center – 12th Floor
Georgetown University Law Center
600 New Jersey Ave., N.W.
Washington, DC 20001
The 2018 Samuel Dash Conference on Human Rights will feature a day of discussions with leading experts about the state of women's human rights, including combating human trafficking, FGM, and child marriage, and protecting and supporting women's human rights defenders around the world. The forum will provide an opportunity for speakers, panelists, attendees, and students to engage on a series of critically important topics impacting the fulfillment of women's human rights.
The Samuel Dash Conference on Human Rights was established by Professor Dash's family and friends, Georgetown Law alumni, and the law firm of Cozen O'Connor following his passing in 2004 to honor his contributions to international and domestic human rights.
Conference Program
10:00 a.m. Welcome Remarks, Andrew Schoenholtz, Director, Human Rights Institute, and Professor from Practice, Georgetown Law
10:15 a.m. Rights of the Girl Child: Ending the Practices of FGM and Child Marriage
Susan Deller-Ross (Moderator), Director, International Women's Human Rights Clinic, Professor of Law, Georgetown University Law Center
Anne-Claire Blok, Human Rights Advisor, Plan International
Susan Masling, Trial Attorney, Human Rights and Special Prosecutions, U.S. DOJ
Archi Pyati, Chief of Policy, Tahirih Justice Center
Lyric Thompson, Director of Policy & Advocacy, International Center for Research on Women (ICRW) and co-chair, Girls Not Brides USA advocacy coalition
11:45 a.m. Lunch and Keynote Address
William Treanor (Introduction), Dean of Georgetown Law
Her Royal Highness Princess Sarah Zeid of Jordan,Maternal and newborn health advocate
1:00 p.m. Empowering and Protecting Women Human Rights Defenders
Ginna Anderson (Moderator), Senior Counsel, American Bar Association, Center for Human Rights Justice Defenders Program
Noorjahan Akbar, Human Rights Defender, Afghanistan
Binalakshmi Nepram, Human Rights Defender, Founder-Manipur Women Gun Survivors Network & IIE-SRF Visiting Scholar
Cynthia Rothschild, Scholar, Independent Activist & Consultant
Lisa VeneKlasen, Executive Director and Co-Founder, JASS (Just Associates)
2:30 p.m. Coffee Break
2:45 p.m. Combating Human Trafficking of Women and Girls
Denise Brennan (Moderator), Professor and Chair, Department of Anthropology, Georgetown University
Holly Burkhalter, International Justice Mission
John Cotton Richmond, Founding Director, Human Trafficking Institute
Melysa Sperber, Director of Policy & Government Relations, Humanity United
Karen Stauss, Senior Policy Counsel, Human Trafficking Prosecution Unit, U.S. Department of Justice
4:15 p.m. Reception